When to start core training after childbirth
This is a tricky topic because it depends on quite a few factors:
how strong your core was when you gave birth
your degree of abdominal separation
whether you had a vaginal birth or C-section
how you're feeling
and most importantly:
what your doctor or midwife says.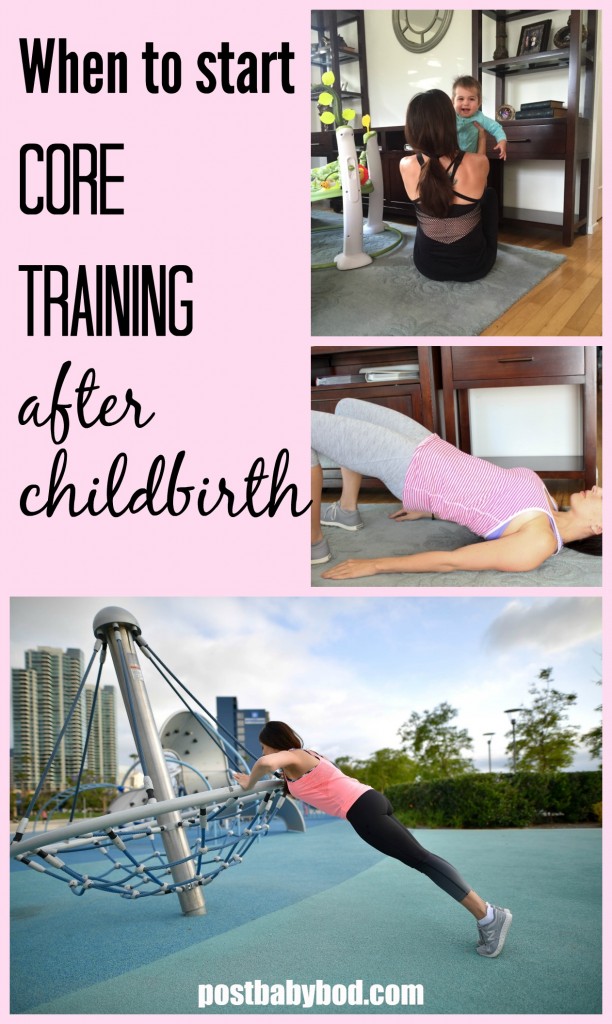 I give quite a few guidelines in the full workout plan about how to safely resume core training (and a progressive list in exercises), but wanted to share some of the things I've learned and what has helped me.
-In most cases, you can begin training your pelvic floor immediately after, or very soon following the birth. (Talk with your doctor to make sure!) The pelvic floor is a major (and often overlooked) part of our core, and one that will help to strengthen the body from the inside out. As your contract your pelvic floor muscles, make sure you are exhaling and drawing the belly up and in. It also helps to meet with a pelvic floor physical therapist to make sure you're doing this correctly, because doing it incorrectly can do more harm than good. Think about drawing the belly button in towards the spine and imagine a zipper in between your ribs, zipping everything together. By kegal-ing and diaphragmatic breathing, you can also work to reduce your abdominal separation.
-Wait until you're cleared (usually around 6 weeks) to ease into core training. I would start with very simple moves (like the ones in this post) and see how you feel. Avoid training the rectus abdominis (the outer core and "six pack") muscles, because they can push everything OUT. This is the opposite of what we want to do. If you find yourself doing any exercise and your belly is pushing OUT, ease back. You want your transverse abdominis (the deep muscles that pull our belly in like a corset) to be engaged for all of our core work.
-Avoid extreme oblique training, especially if you still have diastasis recti, where the abdominals separate to make room for the baby. If you overtrain your obliques, they will continue to pull your abs apart. Not what we're going for here. To check for diastatis, check out this video, or ask your doctor or pelvic floor PT to check for you. Make sure you have a two-finger gap or less before proceeding with more traditional core work. (If it's wider than 2 inches, talk to your doc who can hook you up with Physical Therapy to help reduce the separation.)
-Find examples in daily tasks to get in bonus core training. The best visible results you'll see in your core will be from time, cardio, and clean eating. Training the muscles in our core can help to protect our back and promote good posture over time. Think about engaging your core throughout the day, like when you're exhaling to lift up baby, twisting to place something in a cabinet, or bending down to pick something up.
-Some of my favorite early postpartum core exercises: (as always, check with a doctor before making any fitness changes)
Diaphragmatic breathing (after you get the hang of this, try to pull your core up and in on the exhale and relax to fill your belly on the inhale)
Modifed plank (or plank against a wall or countertop to modify)
For some ideas on pregnancy core training, check out this post.