Keep the intensity, lose the impact
Unless you have particular medical concerns or require a specific exercise program during pregnancy, your doctor or midwife will likely tell you to "keep doing what you're been doing, as long as it feels good."
My first and second pregnancies were very different. During my first pregnancy, I was a cardio queen. I taught Zumba until I was about 36 weeks pregnant, did dance cardio at least once a week, and was walking and Stairclimbing to my heart's delight. Strength training went by the wayside. While I've always enjoyed a good iron-pumping session, it didn't feel as good as it used to. I stuck with super light weights, and it wasn't a consistent part of my routine. Flash forward to my second pregnancy, and I found out at 13 weeks that I had placenta previa. This is where the placenta is low, so it can be covering the cervix (complete previa), or close to it, which is what mine was doing. Doctor's advice: watch the impact exercise. So, I had to take time off from my favorite workout (Orangetheory) and spent more time in the yoga studio. As the placenta moved up during my pregnancy, I stayed with more low-impact options. My round ligaments were killing me, I had a heaviness in my hips, and became sore and uncomfortable easily. I guess that's what happens when you're growing an almost 11-lb turkey. 😉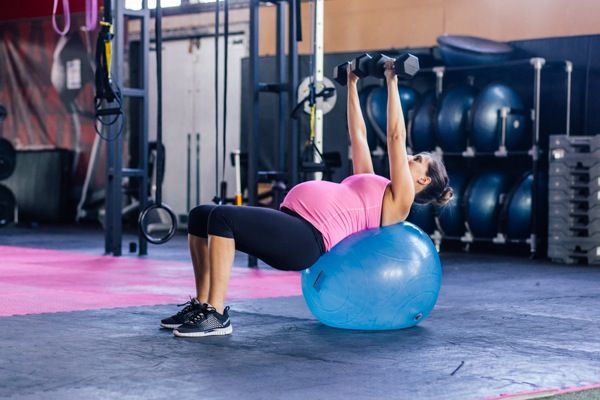 While both of my pregnancies felt different, my body gave me the indictor that I needed to change up my routine. With my first pregnancy, I was like "Oh hey, this feels awesome" until it didn't anymore. During my second, my doc made the call for me. I've also learned with many of my friends that there became a point where they knew they needed to change up their routine, whether they're marathon runners, barre fanatics, boot camp fiends, or weightlifting lovers. While everyone and every body is different, you may find a point where you're ready to dial down the impact of your workouts. It might not feel right, your doc may suggest it, or you may just be to that uncomfortable finish point where you're like "get this baby OUT."
Here are some ways to keep up the intensity of your exercise moves, while decreasing the impact on your joints:
-Keep one foot on the floor at all times. You can do many plyometric movements by keeping one foot on the floor at all times. For example, if you're doing a modified burpee, walk back to plank instead of jumping back. If your favorite fitness class is doing any type of jump, do the same movement with one leg. Just make sure to alternate sides.
-Experiment with height dynamics. If you are moving your body from low to high, you will still get your heart rate up without impact. (Just be careful with that growing belly!) One of my friends would do this awesome move where she'd start on her knees, press her arms up overhead 3-5x, and then walk her hands out to a modified plank. She'd do 3 modified push-ups, walk her hands back so she'd be back on her knees and press her arms up overhead again.
-Walk instead of run. You can always add in gentle hills or power walk blitzes. A lot of my serious runner friends were able to maintain their running schedule (with less mileage and a decreased pace) during their pregnancy. Some of my runner friends switched to walking entirely. I think that walking in general is so good for the body and mind, and is a great chance to get in some activity while you listen to a podcast and enjoy being outside.
-Try prenatal yoga. During my first pregnancy, I despised prenatal yoga because I hadn't found a class for me, and I didn't really know how to modify. All of my tips for modifications are here! If you don't enjoy a class, try another one. With modifications, I was able to practice fairly regularly, and I feel like the meditation aspect was beneficial for me during such a difficult birth and newborn period.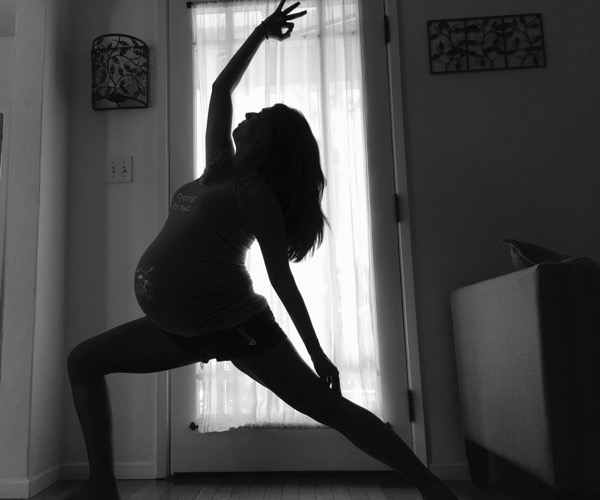 -Go for a swim. There's something very wonderful about feeling as light and buoyant as a feather when you're currently waddling around and uncomfortably huge. Swimming is fantastic because it has zero joint impact, and you can still get in a great cardio workout with added strength from the resistance of the water. Check out a water strength or aerobics class near you! If you're like me, you'll be surprised by how challenging it is!
Fellow mama friends: what changes did you make to your routine while you were pregnant? Were you more of a cardio or strength queen?
Expecting mama friends: what do you currently do in your routine?